Key Takeaways
With TN360's Vehicle Maintenance, you can record and store a variety of important details for each of your vehicles and assets, along with the ability to create schedules based on manufacturer and business requirements on each. Reminders and notifications are sent when services are due based on Engine Hours distance travelled or due date. The information helps you manage your vehicles maintenance requirements electronically, ensuring they're road worthy, compliant, safe and efficient. This can ensure the business is optimally performing to provide maximum productivity.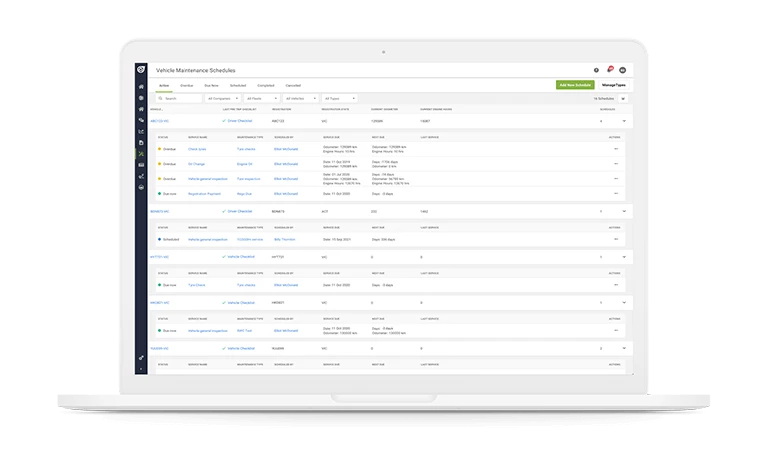 What is Vehicle Maintenance
Vehicles are expensive assets and ensuring maximum return on investment is closely linked with the condition of your vehicles, equipment or machinery. The ability to ensure that all assets are in optimum operating condition helps ensure maximum productivity.
On the flip side, vehicle maintenance also forms part of many compliance and regulatory program requirements. From the NHVAS right through to the Chain of Responsibility, ensuring the safety of drivers and the community at large is important.
A digital vehicle maintenance system built into your existing fleet management solution is key to safety and productivity. It helps ensure you can keep track of all vehicle conditions at all times, both current and historical, as well as the ability to keep up-to-date with all maintenance schedules – whether it's set out by the manufacturer or as part of your business processes.
Once a schedule has been set up, you are able to set a reminder that notifies you when that task is due to helps ensure it's not missed, even if you must postpone it to a time the vehicle is available and not currently out on the road. When workshop staff or your local mechanic have completed the works, you're able to set the schedule as complete and further record information such as completed dates, works completed, notes, upload of documents like receipts and summaries of work completed.
All this provides a complete picture of your business's maintenance requirements along with a thorough history of vehicle conditions.
What are the Key Features
Store important information directly against each vehicle from the one place
Create your own types of tasks based on your business requirements, to schedule against your vehicles, machinery, and other operating assets
Set reminders alerts to help ensure schedules are actioned on time
Create schedules for a vehicle with all the necessary information with ease, along with the ability to set as complete that allows to input further information
Store documents against each vehicle schedule, from anything such as copies of works completed and receipts
Run complete reports either against individual vehicles or specific fleets
Configurable fields to tailor vehicle maintenance items to your business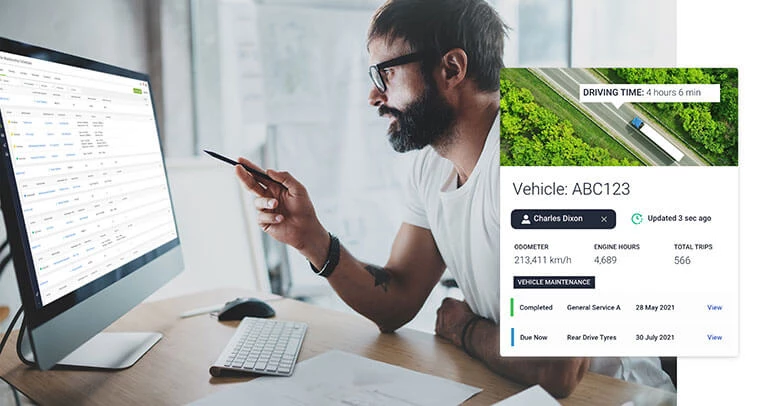 How can Vehicle Maintenance Help your Business
Vehicle maintenance in a paper-based system is comparable to playing cat and mouse. It's a constant game of chasing up with paperwork, confirming last service details with workshop staff, and keeping up with compliance requirements set out by regulations (whether it's roadworthiness right through to compliance programs).
With a digital system at your fingertips, you gain a huge advantage. Paired with the Pre-Trip Checklist application, your drivers complete a thorough list of items to check around the vehicle, and themselves, to ensure readiness for duty. If any item is found to not be up to scratch, the vehicle can be stopped before it even leaves the depot as workshop staff are instantly notified – if the driver is already on the road, spare parts can be ordered instantly and installed upon return.
Its time spent more productively, and less spent chasing details or figuring out when the next service is due. The maintenance module within TN360 keeps you on-top of schedules, ensuring you have a thorough history of when vehicles, and all other machinery, is tracked and any future schedules can be created to follow both manufacturer guidelines and business requirements.
Creating schedules are only part of the first step in the process. Once the vehicle has been fixed up, you are able to set the schedule as complete in the system, as it provides further details you can add in, including the workshop details, dates, costs, and the ability to upload documents like summaries of works completed, invoices/receipts, and more.
With Vehicle Maintenance at your fingertips, you can rest assured that your digital processes are taking care of your compliance and vehicle requirements.