Key Takeaways
Welcome to EasyDocs from TN360, an application that allows businesses to upload, store, and share important documents across entire fleets and mobile workforces. Stop wasting time looking for documents with this cloud-based, filing system designed specifically for fleets.
What is EasyDocs
EasyDocs is a feature of TN360 that allows users to store and assign documents to certain fleets or types of vehicles, ensuring that the proper paperwork is readily available when and where they're needed. Drivers can access these documents anytime via our in-vehicle driver tool, MT201.
It's accompanied by a mobile app, which provides instant access to important documents, such as:
Safety and operator manuals
Company policies
Permits and Gazettes
Compliance documents
Legal documents
Delivery instruction
Site-specific information
Driver-related information
What makes EasyDocs different
Built specifically for companies and fleets on the go, EasyDocs provides access and visibility into the documents your team needs, when they need them.
EasyDocs allows users to manage their fleet and documents in one application, making it easy to distribute documents to drivers in the vehicle. For example, if you have a vehicle operator policy for vehicles of a certain class, you can update the document in TN360 EasyDocs and assign it to all vehicles of that class.
The solution also enables you to send specific documents to drivers based on activity recorded within the application, such as sending a customer site safety checklist to a driver when they enter a customer site. This type of automation wouldn't be possible if your vehicle data and documents lived in different platforms.
How can EasyDocs help your business
EasyDocs offers a central location for your most important documents, accessible from virtually anywhere in the world.
Important features of the platform include:
Document management: Ensure all drivers have up-to-date documents with built-in version control in a central location.
Push documents: Ensure vehicles and drivers have the correct and most current documents for their job and/or vehicle class. Easily push documents to one vehicle, or to multiple vehicles via over the air updates. No  need to bring vehicles off the road to provide them with new documents.
Acknowledgments capability: See if drivers have seen or read important documents and force acknowledgment for safety and compliance. Run reports on which documents have been read.
 An audit trail provides real-time visibility into your documents and helps ensure drivers are staying compliant.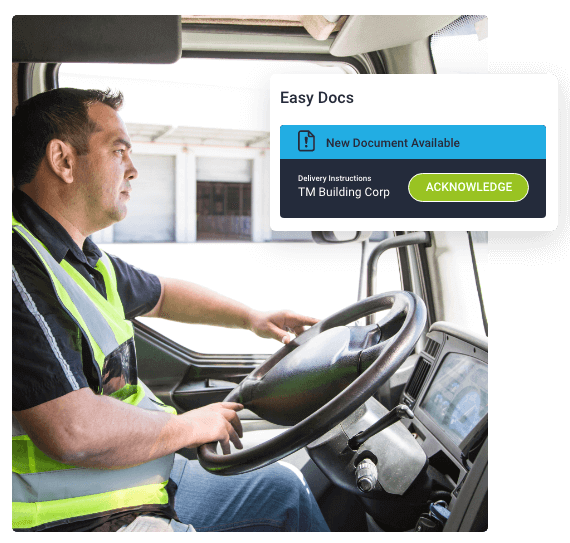 RESOURCES
Learn about the latest in fleet and job management