Key Takeaways
With Messaging, you can communicate in a safe manner between the driver and office staff. Embedded within TN360, an AI-enabled fleet management system, Messaging is an application feature rich with driver acknowledgement, conversation management and simple driver interface to send/receive messages.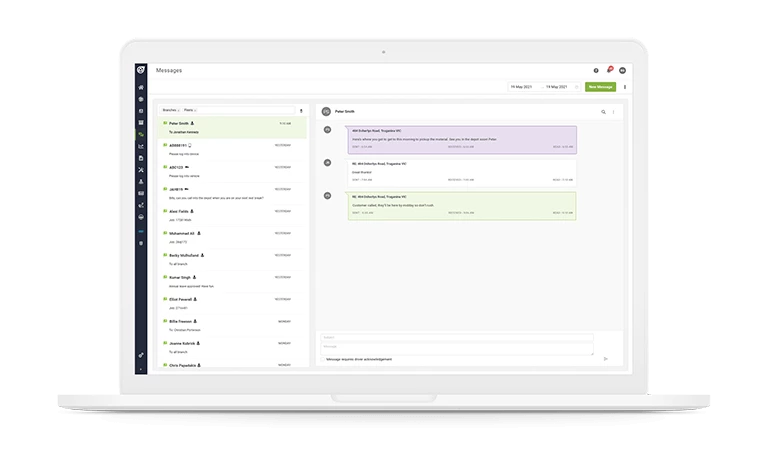 What is Messaging
Available through TN360, Messaging is an application that provides a simple yet powerful means to keep communication flowing safely between the driver in the vehicle and your staff in the back-office. On the MT201 device, the driver is provided with a user interface that makes it easier to view incoming messages, see previous messages sent and received, as well as send messages direct to the back-office administration and management team.
Key features include:
Instantly send messages to any driver or vehicle in the fleet

Simple yet familiar interface for drivers and back-office staff to view and send messages

Set messages that require the driver to acknowledge

Central inbox functionality, allows for the entire team to see the messages, ensure nothing is left unseen

Create pre-defined canned messages to simplify the process of sending standard messages to drivers

Audio/visual prompt when a new message is received on the in-vehicle device

Ability to send 'route-to' messages to drivers that provide turn-by-turn navigation
What Makes Messaging Different
Communication is key to any successful business, but ensure it's done so in a safe manor is important. Relying solely on texting and phone calls direct to the driver's mobile is fraught with inconsistencies, patchy reception, and not to mention, illegal when operating a vehicle.
Within the MT201's managed environment, the messaging application provides a means for you in the back-office to ensure that the driver in the vehicle can get the message safely, without relying on calling their cellphone. 
Through the in-vehicle's device, the driver gets a huge 7" display's worth of real estate to be able to type out their message with ease. In an age where the average age of drivers is increasing along with the diverse landscape of cultures now behind the wheel, the MT201 provides an easy to way to help ensure your drivers can read and write messages.
How can Messaging Help Your Business
Messaging provides a central location for all your communication in the business.
With a centralised inbox, you can ensure that the entire team gets all the messages, meaning nothing gets left unread. This means, that the driver isn't left hanging when urgent communication is required.
Audio visual alerts when a new message is received, along with if it requires acknowledgement.
See if drivers have seen or read important messages and force acknowledgement for safety and compliance.