The transport and freight industry has long been focused on safety, with fatigue becoming a crucial issue in the last few years. At the same time, a critical skills shortage in the industry has made it more important than ever to tackle safety and create a secure, welcoming environment for both existing and new drivers.
In our recent Telematics Benchmark Report: Australia Transportation Edition, we spoke with a large number of fleet and operations managers across the country to find out how they're facing these challenges – and whether there's a piece of the puzzle missing.
Overcoming the Biggest Roadblocks
When it comes to business challenges, cost management is the main concern, along with managing risks and reducing incidents. This is closely followed by a focus on growing revenue (13% increase over the last year), business expansion (11% increase) and finding, retaining and developing talent (16% increase).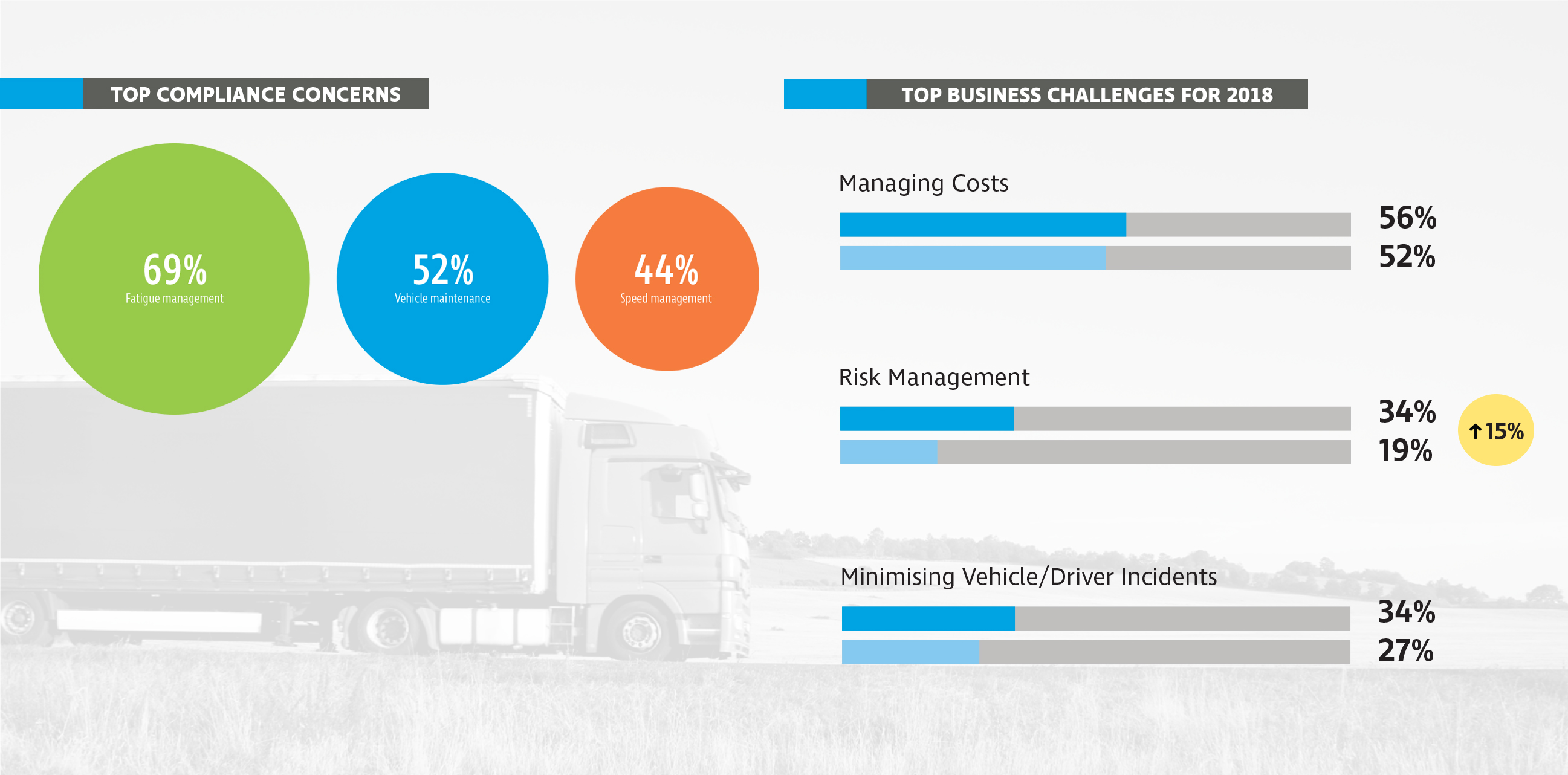 And as businesses wrestle with safety and cost control, operators are also looking at ways to expand and meet increasing demand. A third are experiencing a shortage of skilled drivers, while more than half are adding new vehicles to their fleet due to a growing need for their services.
The Untapped Benefits of Fleet Technology
While many organisations have implemented telematics systems in response to these challenges, the survey has found that technology isn't being utilised to its full potential.
Fatigue management remains a compliance concern for 69% of respondents, but only 12% are currently using an electronic work diary (EWD) to more effectively manage fatigue. Further to this, 55% have no plans to implement one. EWDs will soon be an option for operators and drivers to implement as a voluntary replacement for written work diaries – the survey findings show that uptake may be slow.

Similarly, while big data has repeatedly been shown to deliver cost savings and efficiencies, 61% of businesses aren't using data analytics and don't plan to start in the next year. Smaller fleets (those with less than 50 vehicles) have been most slow to embrace it.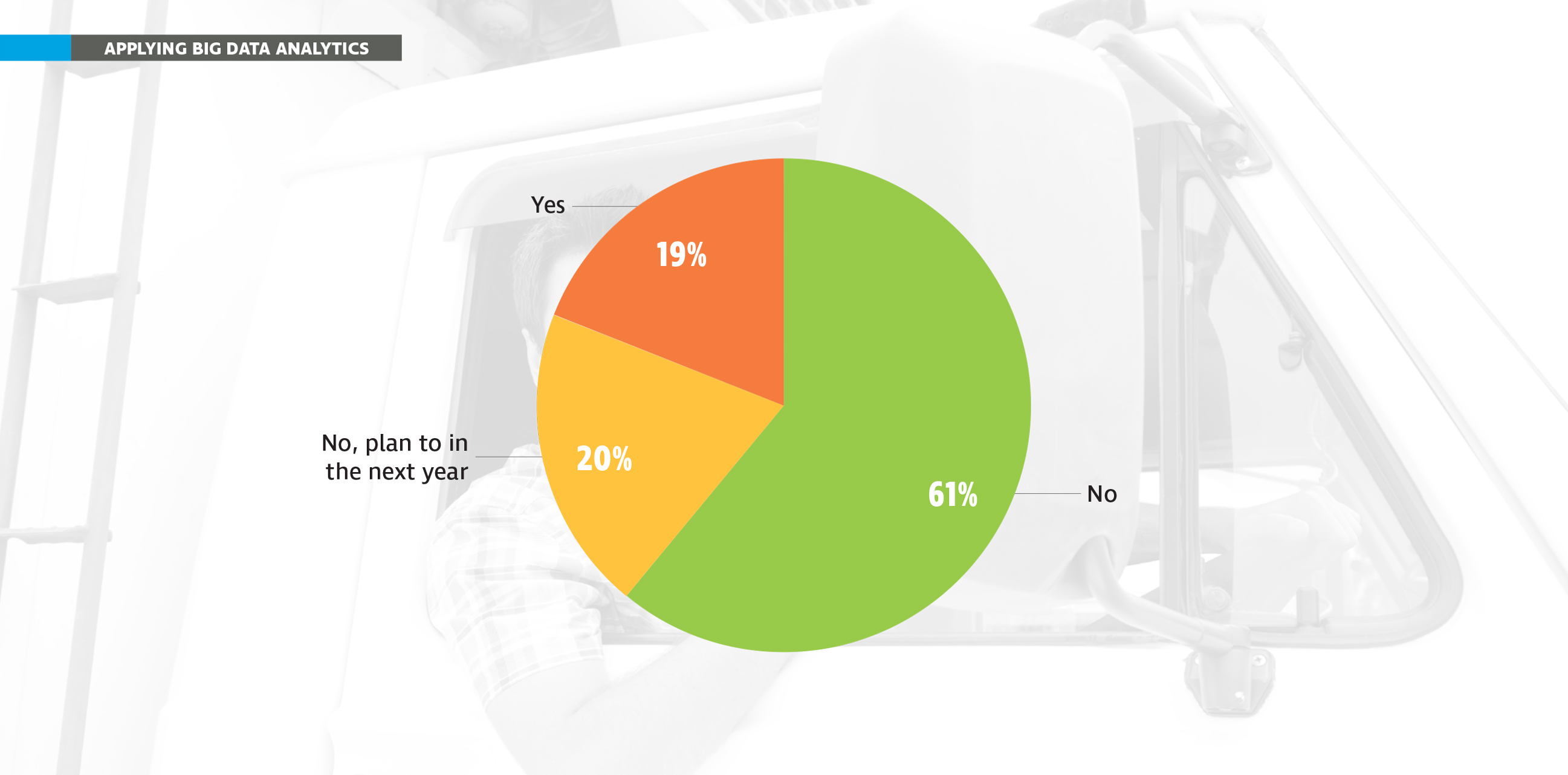 Getting The Most Out of Telematics
The top perceived advantage of telematics is the ability to know where vehicles and assets are. But fleet management solutions these days go far beyond track and trace capabilities, especially when it comes to managing compliance and improving efficiency. Those using telematics to its full potential not only see improvements in driver behaviour and safety but find it easier to meet compliance requirements and save on both time and costs.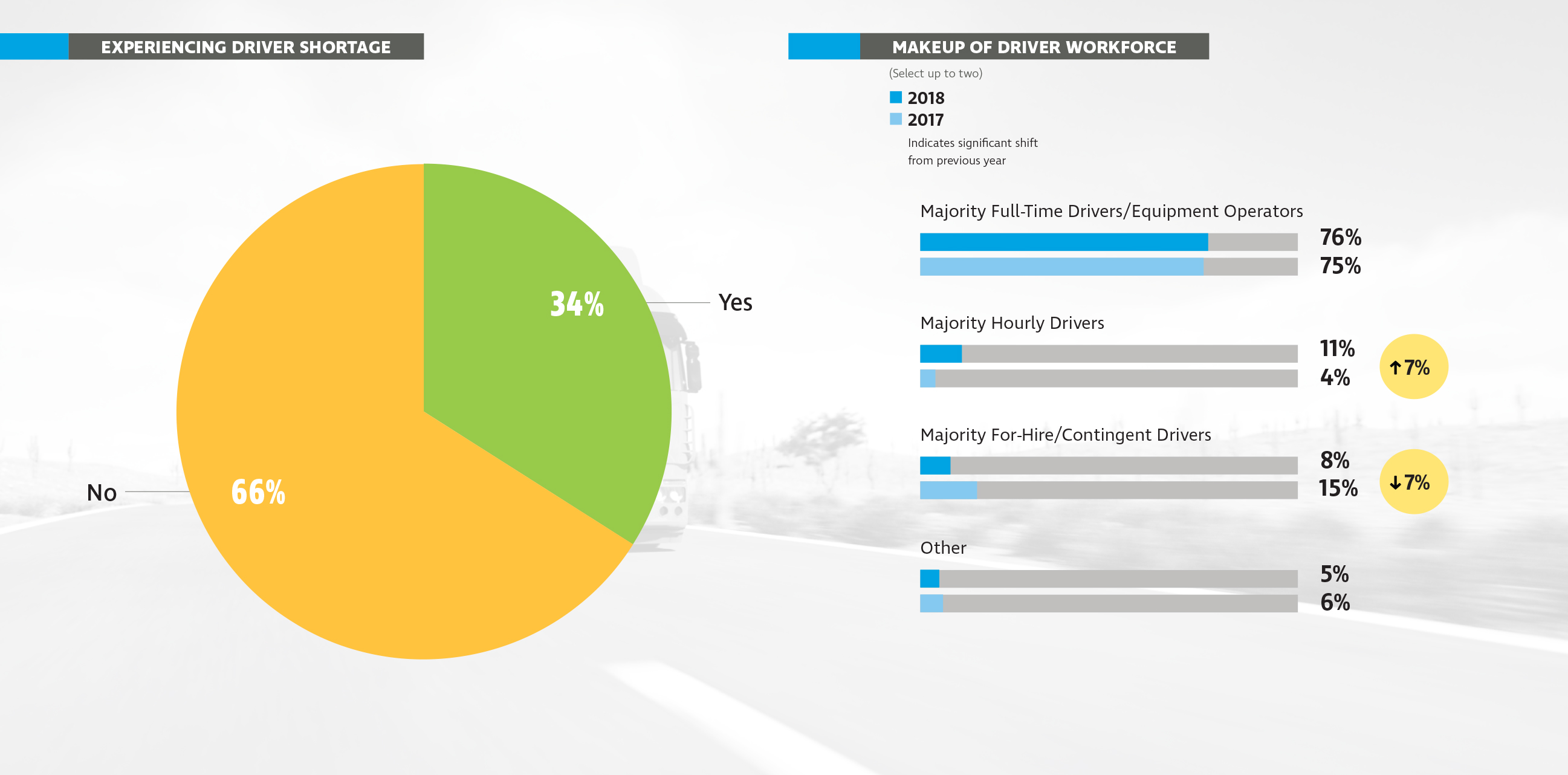 Armed with insights from fleet data, organisations can build a safer, more cost-efficient fleet, while addressing growing demand for drivers. For example, while less than 50 per cent of organisations are rewarding their drivers, those that invest in rewards programs see improved customer service, better driver retention and fewer safety violations or accidents. Using telematics data on driver behaviour provides the opportunity to recognise and reward staff for safe driving and improve habits on the road.

Likewise, by implementing fleet management software effectively, businesses can address the issues currently placing a burden on their fleet. Nearly half of all respondents using telematics reduced fuel costs, with nearly 10% seeing costs drop by 11% or more. By implementing telematics across your entire fleet, you can unify operations data to make smarter decisions about all the big issues – from fuel use to job allocation and driver safety.
Building A Connected Fleet
It's clear that there's a huge opportunity to get ahead of the competition and address key concerns with fleet management tech. Each one of your vehicles produces valuable data that goes far beyond tracking dots on a map. With the right tools, you can use this information to drive down costs, increase productivity, better deploy your vehicles and keep drivers safe. In the long run, this will build a culture of innovation and safety that not only appeals to new recruits, but keeps existing drivers happy at work.