Last year, Teletrac Navman, in partnership with the Australian Trucking Association and the Canberra Innovation Network, hosted its first hackathon, FatigueHACK. Teams of tech experts, health professionals and industry leaders worked together to create an effectivefatigue management solution.
But the big question, one year later, is where are they now?
We caught up with two of the teams presenting prototypes at this year's Trucking Australia, to check on how their solutions have changed and what they've learned since the hackathon.
Augmented Intelligence and its Smart Steering Wheel
The Augmented Intelligence solution turned a truck steering wheel into a fatigue monitoring tool. Using electrocardiogram (ECG) technology, the team designed and created a cover that fits onto a truck steering wheel and tracks a driver's heart rate to predict early signs of fatigue.
Since FatigueHACK…
The team has been busy refining the smart steering wheel and now has a stable prototype that can be deployed in just one minute. It's now being tested with a variety of users to see how it operates in a real-life environment.
Over the last year, the solution has collected data from drivers and started its processing phase. From there the team will build up profiles for both fatigued and alert states to use as benchmarks.
"We've got around 150 sessions worth of data and we'll need to keep building that out as much as we can, because each driver shows signs of fatigue differently", says Andrew Hammond, team leader.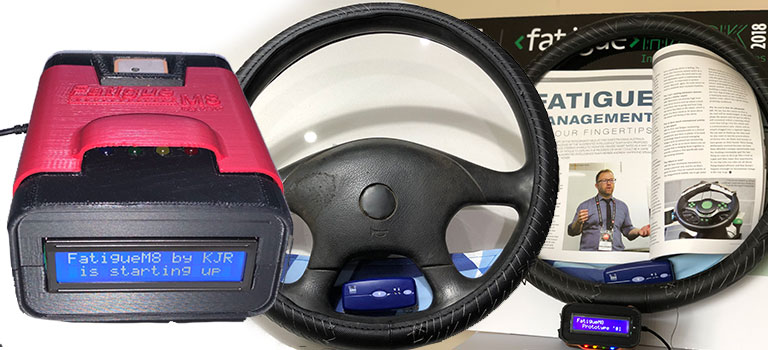 How the solution has changed…
The solution is not only better, but bigger. The prototype is now big enough to fit a truck-sized steering wheel and has more data-collecting capability, with receivers all the way around the cover. No matter where a driver's hands are, the solution monitors their heart rate with ease.
The team also introduced a small computer that sits on the dashboard to collect and process data from the wheel. The unit includes a GPS unit, LED lights and screen to display feedback.
"Before we only had the ability to monitor heart rate but not do any processing. Now we have a more feature-rich system", says Hammond.
The team are still working with the Canberra Innovation Network, IntelliHQ, Intel and Gold Coast University Hospital, and are looking to introduce more partners later this year.
What they've learned in the last year…
After testing the solution and speaking with industry experts, Augmented Intelligence now has a clearer vision.
"We've got a few challenges ahead of us around common driving culture. A lot of drivers operate with one hand on the wheel, but for our solution to work, we need periods of time where they use both hands. We need to look adjusting those behaviours so we can capture the necessary data to predict fatigue effectively", says Hammond.
What we can expect at Trucking Australia…
Augmented Intelligence is bringing the solution to Trucking Australia in Perth to show attendees what the solution looks like and how it works, while getting feedback on how to make it better. The smart steering wheel will also be fitted into the trucks of industry personalities Heather Jones and Yogi, to trial their rigs around the event.
"Both Heather and Yogi are great personalities and have very diverse views on fatigue management. If they provide feedback on our solution, that's not a bad outcome. It'll give us a chance to work out what we need to tweak to give it that value", says Hammond.
What to look forward to…
Overall, the team is happy to see that the solution is resonating so much with industry bodies.
"We're incredibly appreciative of everyone who has helped us along the way. It's now our turn to give back to the industry. We couldn't have asked for a better start and that comes down to the support we've received."
GlobalWhere and its Wearable Wristband Solution
GlobalWhere also went down the tech path at FatigueHACK, but took the route of wearable technology. It partnered with fatigue experts and wristband manufacturer, Circadian Australia, to develop a solution that calculates alertness based on sleep, while also predicting a user's state for the next 18 hours. GlobalWhere then provides visibility of fatigue data while maintaining worker privacy.
Built on a decade of research in actigraph technology used by the US military, GlobalWhere says it's accurate and easy to use. The unit determines if users are sleeping, awake or not wearing the device. Data is anonymised so that employers can't view personal information of drivers or their sleep schedules.
Ruggedised to prevent breakage along with a long battery life for extended data collection, GlobalWhere's solution is a game changer in fatigue management.
Since FatigueHACK…
After the conclusion of FatigueHACK, GlobalWhere was accepted into the BlueChilli start-up accelerator program. The team spent six months receiving funding, mentorship and introductions to potential investors, while developing a prototype version of its dashboards.
GlobalWhere's solution also completed a trial with Forestry Corp, where seven drivers used the solution for three months and were asked for feedback.
"Drivers were very engaged and keen to use the solution every day", says Gary Scott, Founder and CEO for GlobalWhere.
At the end of the trial, two thirds said they would choose to keep using the wristband while the other third said they would be happy to continue if their employer wanted them to.
GlobalWhere continue to work with Circadian Australia, who provide the team with the wristbands, fatigue training and sleep improvement consultations.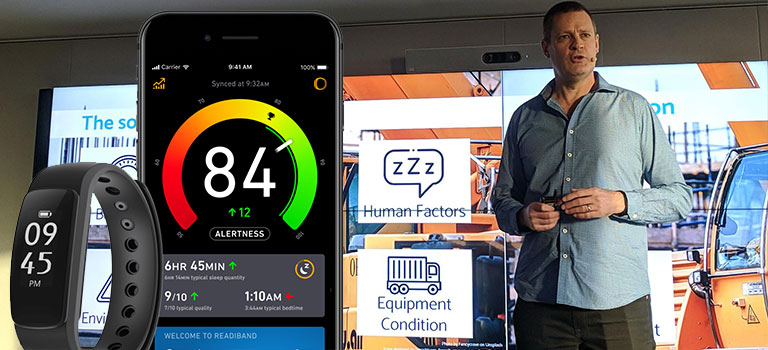 How the solution has changed…
The overall concept has stayed the same. Instead the team has expanded its vision. It's now looking at taking data from additional sources, such as front facing cameras, Smart Caps and electronic work diaries. By collecting and processing different kinds of data, the team believes the solution will create a clearer picture into driver behaviour.
What they've learned in the last year…
The biggest learning was that developing a fatigue solution wasn't as simple as how to increase alertness in drivers and cutting them off at an arbitrary threshold.
"Different people experience fatigue differently. The solution is incredibly helpful in tracking a user's state but there are still a few barriers in place. It can't tell if you've had a cup of coffee or if you've done a lot of exercise or looked into the sun or had a window open. That's why we're looking to expand our scope beyond sleep, by collecting data from a range of sources, we can create a clearer picture that improves safety overall."
Another surprise was that plenty of drivers who operated within the legal hours of service still showed high levels of fatigue. The team want to work on how to best to reduce risk under these conditions.
What we can expect at Trucking Australia…
GlobalWhere is keen to show Trucking Australia attendees its journey so far, including the results of its trial with Forestry Corp. It will ask the audience what kinds of real-time data would make the biggest difference to the industry.
By addressing the lessons learned and where it would like to go in the coming years, GlobalWhere hopes industry bodies will offer insights into how its solution can better manage workplace safety.
What to look forward to…
GlobalWhere would love for its solution to be an accepted real-time work and safety platform for at-risk workers. The team believes the solution not only benefits the trucking industry, but all sorts of sectors where workers need to be alert to avoid risk.
For more information about Augmented Intelligence and the smart steering wheel, or GlobalWhere and the wearable wristband solution, check out the "FatigueHACK: From paper to prototype" panel at this year's Trucking Australia, hosted at Crown Towers in Perth 3 – 5 April.