An ongoing series brought to you by Teletrac Navman and the Australian Trucking Association (ATA)
Small Steps to Big Change
From shearing shed worker to transport all-rounder and now a 2021 Diversity Champion, Peta Gowans has experienced all kinds of workplaces and walks of life. We spoke to Peta about her experiences in the industry and what
 organisations can do to build a welcoming, inclusive workplace for everyone. Peta also reflected on the work needed to improve representation for First Nations peoples in transport, and what her career journey can teach young people looking to get a foot in the door.
This week is NAIDOC week, an important time to celebrate the history, culture and achievements of our First Nations peoples. What do you think the transport industry needs to reflect on before, during and after NAIDOC week?
As a First Nations person, NAIDOC week is very important to me. We're the oldest surviving culture in Australia and it's important that the industry recognises the significance of this event. For the last few years, I've come to work in my Koori colours during NAIDOC week. Being able to express and celebrate that at work has been really important to me.
Land is also fundamental for First Nations people, both physically and spiritually. This year's NAIDOC week theme is all about recognising, protecting and maintaining our culture and heritage. When it comes to the transport industry, we've got trucks driving and people working on the land, and I feel a real connection to the land at work. But there's more education needed for drivers and businesses to understand what land they're on, and how to protect and treat it with respect.
I'd like to see more First Nations people in the industry too. We have a real opportunity to get more of our community involved in trucking and transport, staying connected to the land with farm work and driving roles.
What can businesses do to encourage and open doors for young First Nations people to get involved in the industry?
We need to overcome the barriers that stop people from seeking out jobs. A lot of young First Nations people can feel that they're not wanted in the industry because of theirculture or the colour of their skin. I really want us to get the message out there that there are lots of opportunities for them, to and demonstrate that we're an inclusive industry and we treat each other equally. Everyone can achieve success within the industry based on their ability alone.
How do you think the industry can communicate that message?
I think it's important to get out to schools and TAFEs to show people all the different opportunities available in transport. I know that when I was growing up, I had no idea of the roles available! You've got the people driving the trucks, but there's also the people loading the trucks and the people in the office organising everything. We need to give kids the bigger picture; show them what's possible for boys and girls from all different backgrounds.
Just look at my role – I'm the main point of contact for customers so I answer all incoming calls and work closely with drivers. But I also support with hiring, HR and driver inductions, while supporting the logistics team, coordinating site arrivals and working on the compliance side by doing drug and alcohol testing. There is so much involved in my role, and I didn't know this was possible in the industry until I started.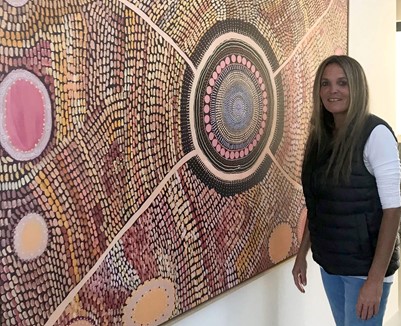 What would you like to share with others about getting started in the industry, based on your own experience?
My story is proof that there's no set career path you need to follow. I was a single mother of four with no experience in transport. I was raising four boys under four all on my own, which was very hard. But once the boys were at school, I started a TAFE course in Community Services, which fitted in with school hours. It took a while for me to get a job afterwards, but I ended up finding a role with an employment agency. Suddenly I was on the other side, helping people who were looking for work. I could really relate to them and empathise with what they were going through. After that, I got a job in a shearing shed, which led to my role at Kelvin Baxter Transport through a recommendation from my boss.
I think my experience proves that everyone deserves an opportunity and has something valuable to offer. I thought no one would employ me as a single mother with limited experience. But I knew my strengths. I get along well with people, I always do what's best for the business, and I make people feel included in the workplace.
Now I come to work and I'm happy, it's a great environment and I learn something new every day. I've got skills and perspectives from all those different roles, which I can apply to my job at Kelvin Baxter. That's why I show a bit more empathy when selecting drivers for a new job position. If someone doesn't have as much experience but is willing to have a go, and they're a quick learner, I think they should be given an opportunity. That's how you get in the door. And that's the difference I want to make - giving people a fair go. After all, I was only supposed to be here for two weeks, and now I've been here for over four years! 
What do you think is holding the industry back from achieving a more diverse and inclusive culture?
People don't like change. I still witness bias and barriers to inclusion in the industry, and people don't want to deal with it because it's easier not to. When I reflect on my own experiences, I've put up with racism my whole life. It needs to change, and that's why I'm so driven to improve things.
We've got to put ourselves in other people's shoes. We have to listen better; we have to communicate more clearly. At the end of the day, everyone is just trying to do their job. We need to try harder to understand them.
What do you think a business can do to get started on the road to a more diverse workplace?
I think it's important to realise that it starts in your own workplace, it's not about changing the whole industry in one go. First Nations people have been fighting to prove our land ownership for so long, we know the importance of small steps. Even though we wish change would happen overnight, it doesn't. Small steps are better than no steps.
For me, I have to start here, at Kelvin Baxter Transport. That branches out to our drivers, and to our community. If every business builds a more inclusive culture, that's how you get industry-wide change.
You just have to start and know that you can make a difference.