The Consumer Electronics Show, a technology showcase held in Las Vegas, has been running for 49 years. After the latest event blew through town in early January, there's a solid case to be made that the 'C' ought to stand for cars.
That's because much of this year's show was dedicated to showcasing vehicle innovation. The flood of announcements highlighted how the car has become one of the most sophisticated pieces of electronics equipment in our daily lives.
Of course, when working in fleet management it's easy to hear about a built-in camera for in-car selfies and think such toys aren't suitable for business. However, the reality is that many of these innovations deliver serious benefits.
It's also important to keep an eye on consumer trends because they shape expectations of what the working environment should be like. Look at how it happened in the office. These used to be static environments until everybody bought smartphones.
Suddenly, everybody expected greater levels of mobility and functionality that suited their needs – instant communications, cloud-based productivity software. They demanded access to information wherever, whenever and however it suited them.
In transport, where an ageing driver workforce is approaching retirement and the industry is struggling to attract digital natives born in the internet age, fleet managers ignore consumer technology trends at their peril.
Here are some of the main automotive trends from CES for the forward-looking fleet manager.
1. Autonomous Technology Supports Drivers… For Now
Fully autonomous vehicles are clearly the future but we're not there just yet. There's plenty of focus on completely driverless cars, with BMW unveiling an autonomous concept car that even has space for a bookshelf, which seems odd when digital formats are surely more in keeping with the vision. But this technology is a decade or two down the road. In the meantime, most vehicle autonomy still has the driver in mind. From artificial intelligence that helps detect and avoid collisions, to consoles that can be controlled with the wave of a hand, the emphasis is mostly on making tasks easier and improving road safety.
2. Your Drivers Expect More So Give It To Them
Casio announced that it had finally added GPS to its smartwatch range at CES this year. Like this pioneering digital watchmaker, GPS fleet management systems have come a long way in recent years. Helping your drivers get from A to B as efficiently as possible is great but there so many other ways you can use the technology to improve their working environment. These include electronic work diaries, which remove the need for time-consuming paperwork and ensure they're taking adequate rest breaks, to automated maintenance scheduling and job management.
3. Vehicles Are No Longer One Size Fits All
There were plenty of concept vehicles on display, including Mercedes Vision Van, making its US debut. This electric van is specifically designed for the delivery market, with an automated cargo space that can load packages itself and drones attached to the roof to pick-up and deliver the packages. Similarly, Honda's NeuV two-seater electric concept car takes the growth of ride-sharing a step further. If you had this car, it could theoretically drive around picking up passengers when you were not using it, which would not only earn you money, but spare you the inconvenience of making small talk with strangers. These concepts might seem way out there but they demonstrate the increasingly niche nature of the industry. You need to invest in technologies that lighten the load for your specific requirements.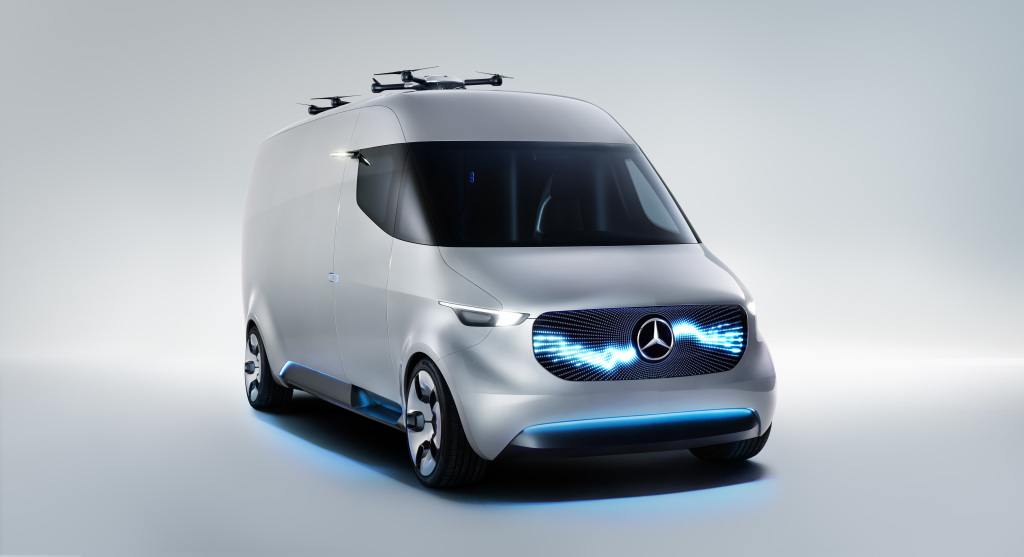 (Mercedes Vision Van)
4. Communication Is Key And This Won't Change
Vehicle-to-vehicle (V2V) communication allows your vehicle to communicate with others on the road, as well as nearby infrastructure like traffic lights, to avoid collisions and improve journey efficiency. Plenty of cars already offer direct communication capabilities or support seamless integration with iPhone and Android platforms, allowing interaction with minimal distraction. It's clear that drivers are no longer content to be in an isolated bubble. Fleet managers need to ensure they're connected without compromising safety.
This year's CES demonstrates that vehicle technology is no longer about cool gadgets in some far off utopian future. There's real value in integrating vehicles into an increasingly networked world to improve worker communication, safety and productivity. It's a philosophy that's worth remembering as you invest in new technology for your fleet.