Go Paperless
A guide to how digital transformation will drive your business forward
Why your fleet needs to go paperless today
Did you know that each Australian, on average, uses over 230kg of paper each year? While paper may seem cheap to manage, storing piles of paperwork can get expensive, finding the right page of a logbook is time intensive, and paper is prone to damage – from ageing and fading to rips and tears.
Check out the infographic
What is the Paperless Workforce?
Updating business processes stored on paper is manually intensive, prone to error and time-consuming for the people who work with it day in and day out.
A paperless workforce replaces manual processes with digital solutions that do the same job, but with efficiency and speed that paper can't match. For many businesses, the idea of going paperless is a daunting one. However, with the right technology, making the switch to a paperless workforce has never been easier.
Where to from here?
There are many aspects to consider in regards to going digital. From what to take on board and the first steps, right through to change management and policies & procedures, ensuring you consider as many aspects across the business is important.
Our eBook helps you visualise what a paperless workforce looks like, what the benefits are based on your role in the business, and covers the areas around change, policies and the first steps to undertake.
Download the Free eBook
Paperless Workforce & Digital Transformation
The Technology of a Paperless Workforce
TN360 is fleet management redesigned to deliver visual insights using data you can mould. Through innovative use of big data and algorithms, the system learns from your operation to tell you what you don't know through dashboards, alerts and maps. With real-time analytics, you can safely and efficiently manage your business as TN360 uncovers trends via natural search, drillable data, and dynamic dashboards.
Explore TN360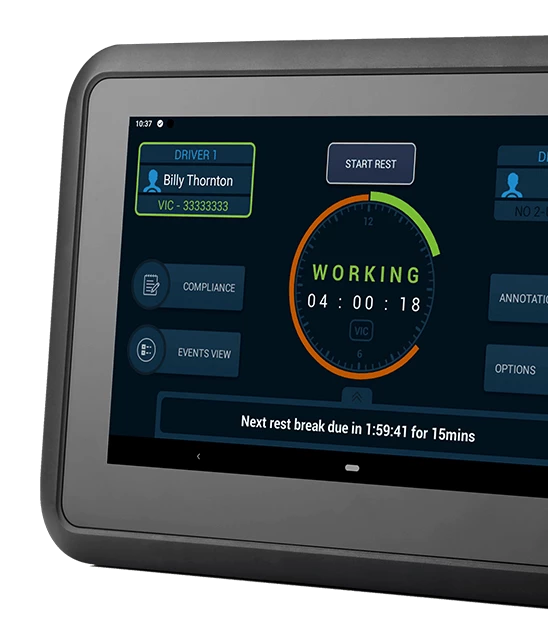 Developed for use with TN360, this range of professionally hardwired or self-installed devices are designed to collect and relay a variety of data, including vehicle location, trip distance, engine metrics, driver behaviour and safety data to TN360. Via TN360, the back-office team and management can monitor operations in real-time through a range of AI-enabled modules.
Alongside the vehicle's telematics device, an in-vehicle driver device is available that assists the driver through their daily duties including turn-by-turn navigation and an Electronic Work Diary.
Explore the in-vehicle devices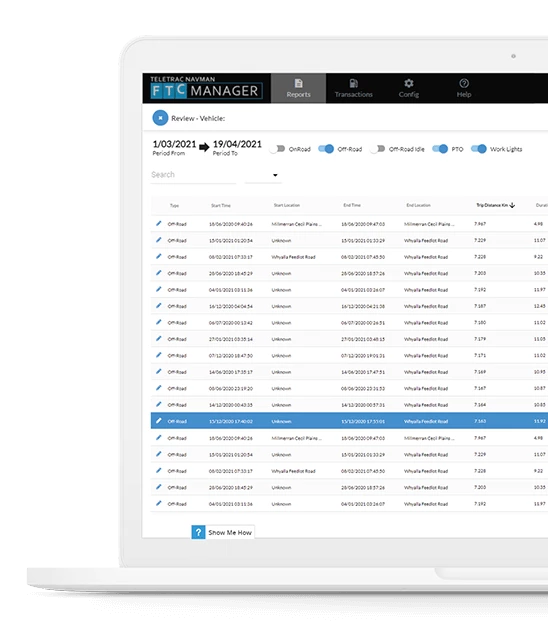 Managing tax can be frustrating at best. Having a digital solution that helps you manage Fuel Tax Credit (FTC) rebates and Fringe Benefits Tax (FBT) takes the frustration out of calculating claims. You can automatically track on-and-off road travel to apportion FTC rebates correctly, and electronically capture private and business vehicle use. Best of all, you get a solution with ATO class and product rulings to ensure you get an accurate and compliant process.
Explore FTC Manager
Digital Transformation
The Benefits of going Paperless
Below is a summary of the benefits to each resourced area of a business. Download the eBook to find out more about how digital technologies and fleet management solutions can help your role across the business.
Download the eBook
The Driver
Drivers are the lifeblood of your business, regardless of whether you're in transport and logistics or a not-for-profit community service. When an organisation shifts to paperless processes, the job of drivers and frontline employees is made a lot simpler.
Administration and the Back-Office
While the driver is the backbone of the business, the back-office administrative team is the central nervous system. Digital operations let your staff do their job more effectively, while providing insights that give them the ability to make more informed decisions.
Management
Operating a transport business can be difficult. Going paperless gives the executive level of your organisation the insights and reporting you need to make the best decisions for your organisation.
Explore More Resources
How going digital will transform transport