Road Infrastructure Management (RIM)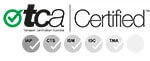 Teletrac Navman is an approved service provider for RIM
Enable your transport business to be more productive
Road Infrastructure Management (RIM) is an application of the National Telematics Framework and provides a new way of collecting road use data from vehicles to better inform and optimise the management of road networks. Teletrac Navman and its type-approved telematics are approved to provide businesses with the opportunity to enrol in the RIM program. 
How Does RIM work?
How it can be used in the business to benefit you
RIM is an application designed to provide opportunities to improve efficiencies for operators. It is not used for tracking individual vehicles, data from heavy vehicles is collected and shared with Transport Certification Australia (TCA). TCA anonymises and aggregates individual vehicle data and publishes reports for road and infrastructure managers. RIM protects driver and transport operator data with privacy being protected by legislation.
The Benefits
Participating in the RIM program, you'll enjoy a number of benefits:
RIM is a low-cost application that monitors parameters of location, time and identity (speed data is not collected)
Enables participation in a number of schemes including but not limited to the Safety, Productivity, Construction and Environment Transport Scheme (SPECTS), Farm Gate Access Scheme and RIM PBS Level 1 and 2 Vehicle Monitoring Scheme
Teletrac Navman is a Certified Service Provider for the RIM program. The hardware installed within vehicles is type-approved to be used within the RIM program.
Benefits for the Road Managers
Get de-identified telematics data about heavy vehicles use on the road network
Make better Investment decisions (e.g road maintenance, upgrades, productivity and safety Initiatives) on road use through specialised reports
Have a single point of access for valuable telematics road use data
The Teletrac Navman Difference
You get more than just a service provider
Teletrac Navman invests significantly in regulatory telematics and the solutions surrounding compliance in order to provide unique value-added services, including transport compliance solutions like fatigue and mass, advanced tracking systems, high-definition replays, real-time alerts, scale & job management integration and more. 
While technology is the core of what we do, the foundation of our business is our hard-working team, made up of industry experts entirely focused on your success. Our professional services team is dedicated to helping you identify your goals, develop a plan to reach them, and implement a solution to support your path to success. With more than 100 years of combined experience in vehicle tracking and asset management, our professional services experts can help you see quick results and meaningful ROI.
Whether you're a hands-on learner who prefers to dive in or you prefer to ask questions and get dedicated support, we have training options to make sure you're getting the most out of our platform.
Contextual learning - Within the platform, our 'Show Me How' feature is built to guide you through features and modules, making it easier to manage tasks
Director help - Have questions as you're navigating the platform? Our 'Help' feature provides you with information on how to set up your fleets.
Live web training - Our expert trainers host web training sessions throughout the week on topics that will help you learn to use the Teletrac Navman platform.
On-site training - If you are looking for something more hands-on, we can provide custom, on-site training to help you and your team get the most from your telematics investment.
When you have a question, we're here to answer with two-tier technical support. Call our toll-free Help Desk to get quick answers and tutorials on our most popular features. For more complex questions, our professional services team can provide in-depth technical advice, the expertise to resolve problems as they arise, and a strong support network backed by specific industry experience.
Ensuring your heavy-vehicles are on the road to their maximum potential is beneficial to the business and the productivity of the industry itself. When considering the applications for TMA is to ensure compliance to road manager requirements, the benefits extend way beyond that.
Safety – a transport management system provides features that can ensure both your driver is safe and the payload is accounted for, especially when considering dangerous goods transport
Compliance – with modules aimed at helping you manage fatigue, speed, maintenance and mass, expanding the compliance effort to a digital solution improves on accuracy, auditing and more.
Efficiency – with a digital solution designed for the modern day transport business in mind, you're able to cut costs in areas such as fuel, routes and administration to create a more efficient business.
Productivity – move less with more, it's as simple as that. With the ability to maximise your assets to potential, the business is able to cut the time taken to complete jobs, allowing for more jobs to completed in a day.
Resources
Additional Information