The construction industry is facing significant change. While costs continue to rise and the focus shifts to safety, the sector is continuing to experience growth, expected to increase by 4.2 per cent from 2018 to 2023, and to be worth $15.5 trillion globally by 2030. In our annual Telematics Benchmark Report: Global Construction Edition, we spoke with more than 2,400 fleet operations and fleet management professionals working in construction and mining to find out how they're keeping up with these changes.
Tackling new top of mind challenges
Despite growing demand for services, construction businesses across the world are facing several challenges. Managing costs remains the industry's biggest struggle, but issues with finding, retaining and developing talent have also grown significantly from last year. More than a third (35%) of businesses are affected by this, up 13 per cent on 2017.

The industry's growing focus on compliance has also resulted in an increase of challenges around minimising vehicle/driver incidents (23%), managing risk (21%), and keeping up with regulatory changes. This notable upswing from 2017 suggests that new laws, such as the upcoming changes to the Australian Chain of Responsibility legislation, are top of mind for many construction companies locally.
Meeting industry demand in a skills shortage
Despite these challenges, the construction industry is experiencing continued growth. Over half of respondents say they'll grow fleet sizes next year to meet rising demand for services (56%), replace old equipment/vehicles (56%) and an increase in domestic growth (35%). Yet while demand is on the rise, labour shortages are leading to higher costs, increased pressure and inefficient fleet utilisation.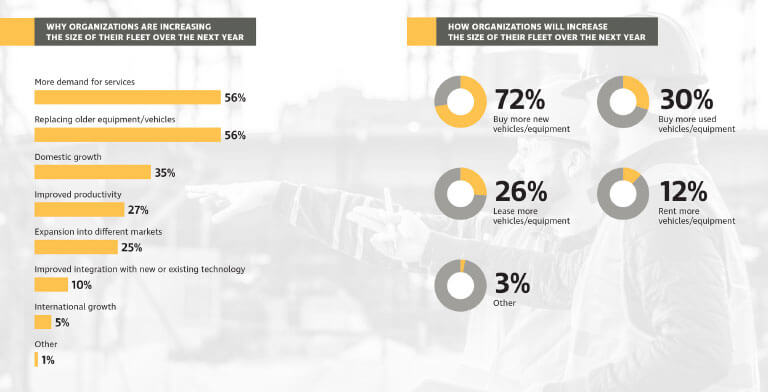 Finding, retaining and developing talent is now the biggest planned business investment for construction and mining professionals (42%), with just under half (49%) saying that increasing material and labour costs was their biggest concern. This echoes findings from the recent Diggers and Dealers conference in Western Australia, which heard anecdotes of fleets sitting idle due to lack of staff. To respond to this challenge, 50 per cent of businesses surveyed are increasing pay, over a third are offering better benefits and 29 per cent are providing flexible working arrangements.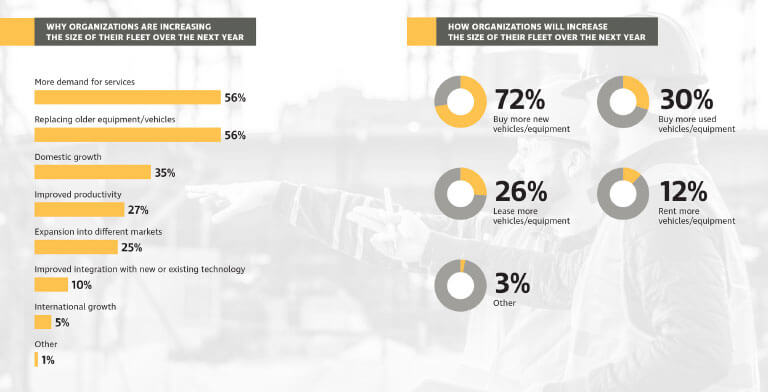 Turning to fleet management technology
With costs increasing, it's no surprise that many construction fleets are turning to telematics to find efficiencies. More than three quarters of respondents are using telematics already, with 26 per cent looking to install more efficient GPS tracking. Upgrading fleets, integrating technologies and systems, and implementing technology for regulatory compliance are also key investment priorities in the year ahead.

Early adopters of this technology are reaping the rewards, saving time and money and gaining peace of mind. The top reported benefits of telematics include knowing where vehicles are (57%), improving driver behaviour (34%), more efficient routing (24%) and cost savings (19%). In fact, more than half report fuel savings as a result of installing telematics (saving 12 per cent on average). And many businesses are looking even further into the future, considering the implementation of emerging technologies like driver warning systems, drones and machine vision.
A long-term investment
A safe, efficient and profitable worksite is reliant on visibility into your staff, equipment, vehicles and day-to-day operations. The survey results reveal that organisations are increasingly turning to telematics and other fleet management software to provide these insights. In the long-term, the companies that adopt these systems will be better equipped to meet demand, retain staff and build a culture of safety and productivity.