With vehicle tracking, you get insight into events that phone calls can't deliver, such as real-time vehicle locations and routing, insight into driving behaviour and compliance, and more. Here are five ways vehicle tracking can improve safety for fleets.
1. Monitoring driving behaviour
Having insight into how your drivers behave on the road is essential to reducing costs, keeping safe, and ensuring customers are happy. Vehicle tracking systems give you access to safety analytics and actionable data you can use to track poor driving habits. You can easily monitor speeds, when harsh braking occurred, where sharp turns happened, and see acceleration rates. This helps you pinpoint areas of concern and coach your drivers as needed. By curbing bad driving behaviour, you help to reduce costs (such as fuel), increase the longevity of your fleet all while you increase the ROI on the purchased assets.
2. Customised driver training
Vehicle tracking solutions help you break down driving behaviour that could lead to serious incidents on the road. Through actionable data, you can keep an eye on poor habits and spot trends before they take hold. These analytical tools give you insight into driving habits no matter the size of your business. You can use the information that technology provides to customise coaching sessions for individuals and create themed training groups. From there, you can squash specific driving habits and reward good behaviour to keep your business compliant and drivers safe. This helps to ensure you are training and coaching through areas that actually requires work.
3. Improve vehicle maintenance
A vehicle is only as good as the shape it's in. The right telematics solution gives you insight into your fleet's health by reporting on a vehicle's maintenance or service needs. With a fully-integrated solution, you can set thresholds and custom alerts for pre-trip inspections and maintenance based on odometer readings from the vehicle. This lets you monitor and support your fleet's longevity and stay ahead of any costly repairs or unnecessary services that stem from unmaintained assets.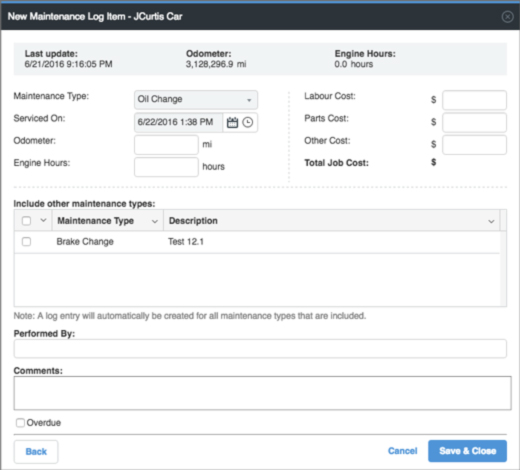 Maintenance Log Form
4. Reduce in the number of events and incidents
Vehicle tracking software isn't simply about monitoring vehicles––it helps guide your team in making better decisions in unforeseen events you wouldn't previously been able to see. When out on a job, drivers can navigate unfamiliar territory and often in unexpected climate, exposing them to potential risks. Technology helps to not only identify, but mitigate risks that are cause from unpredictable situations that arise on the road, poor driver behaviour or other events.
Another common feature included with vehicle tracking solutions, in-cab devices use GPS technology with street-level maps and data available in web-based dispatch systems to give turn-by-turn directions to keep drivers out of harm's way.
5. Adhere to the Master Code
Tired drivers and the open road is a dangerous and often costly combination. The HVNL, CoR and Master Code are in place to ensure drivers are safe to maintain a good work-life balance. Tools are available to help drivers and the business to stay aware of all aspects of the Chain of Responsibility and ensure their fatigue is in compliance with industry measures. Vehicle tracking software also enables you to set alerts and send messages to your drivers for break reminders and other compliance-related tasks. Businesses can count on drivers to remain compliant and rest between and during their shifts, reducing the number of traffic incidents involving drivers, violations, and costly fines across your fleet.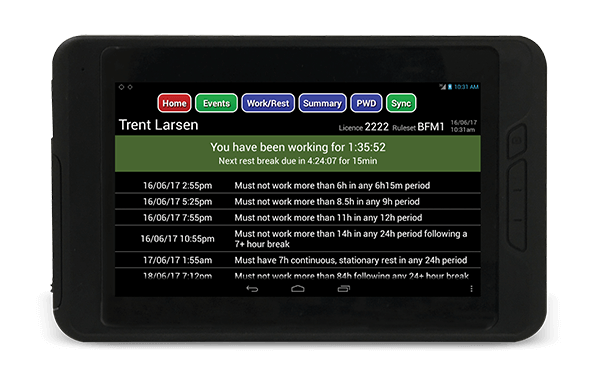 Electronic Work Diary