Comply to Mass & Maintenance Regulations
Mass Management & Pre-Trip Checklists
Peace of mind for your business
Complying to mass regulations is a major concern for operators. Exceeding the strict limits can lead to heavy penalties. With Teletrac Navman's Mass Manager, the process is made simple, helping your business remain compliant with the National Heavy Vehicle Accreditation Scheme (NHVAS).
Build Your Solution
Easy to manage regulatory compliance provides drivers and fleet managers with peace of mind
With strict regulations in place and frequent checks made, it's important your drivers know their vehicle's payload and whether that's suitable for their planned route. Getting it wrong can result in heavy penalties and the grounding of vehicles. Drivers are able to record axle group mass and vehicle configuration directly on the in-vehicle device, along with other details as required under the NHVAS like job identification numbers and weighbridge receipts. This improves back-office processes and helps you remain compliant by giving everyone in the transport chain immediate access to accurate information that can be printed or exported into Excel, ready for audit. 
Vehicle Mass Record
Electronically Record Your Vehicle's Mass
Mass management is an important facet of any operation. With both efficiency and compliance implications, being able to record this information electronically gives a huge variety of benefits. Drivers will be able to record axle-group mass and vehicle configuration information direction into the in-cab device. This automation means previous manual processes are removed, a reduction in duplication and the ability to receive real-time information to help ensure you meet Chain of Responsibility (COR) obligations and NHVAS requirements.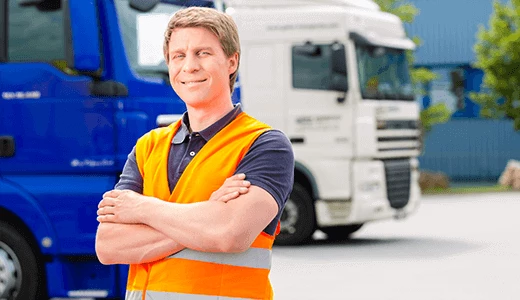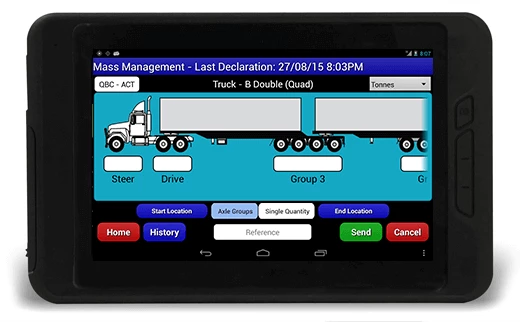 Ease of Use
Electronic Means of Recording Mass
Using an electronic solution, mass information entered by the driver is available immediately, eliminating paperwork from the truck and the office at the same time. No more re-keying of data means a huge boost in efficient processes. The solution is an effective method for ensuring you're meeting your obligations to the National Heavy Vehicle Accreditation Scheme (NHVAS) mass module requirements for increased vehicle payload in a productive manner!