TELEMATICS SATISFIES IN A DEMANDING ENVIRONMENT
Gore Earthmoving is an Australian family owned and operated earthmoving business with more than 30 years' experience in delivery and support services to
the agricultural, civil and mining construction sectors in Queensland and New South Wales.
Based in Goondiwindi, Gore Earthmoving's modern and extensive fleet of late model equipment includes scrapers, dozers, excavator, graders, water trucks, rollers, and compactors, as well as a comprehensive heavy haulage fleet.
With more than 30 staff across the operation, including experienced project managers, skilled certified operators, experienced maintenance staff and supervisors, Gore Earthmoving's client base spans local and state government authorities, small and large private enterprises in the agricultural sector and companies in the resource sector supply chain.
The company undertakes work across a variety of projects including irrigation development and maintenance, road construction, pipe laying, water supply and delivery, vegetation control, large earthworks, feedlot developments and stock dams.
​
The challenge
Given the diverse work and vast areas of projects, Director Mick Gore says his company was looking for a tracking system that would enable increased driver and machine productivity, as well as something that would help better manage servicing scheduling and maintenance planning. "We previously used the old rocker clocks to measure work versus idle time but as our vehicles are often working in remote locations it could take five or six days to get information back to head office.
"With such a comprehensive fleet of vehicles we wanted to ensure that our assets were being fully utilised and required more detailed and accurate reporting of vehicle movements," says Gore.
"Our servicing team was also spending a lot of unproductive time travelling to and from remote worksites to service vehicles, and managing workflows had become an issue. We were relying on machine operators and fleet drivers to relay information about servicing and maintenance requirements and we needed a reliable and effective system to manage those processes."
With such a comprehensive fleet of vehicles we wanted to ensure that our assets were being fully utilised and required more detailed and accurate reporting of vehicle movements
The solution
Gore Earthmoving has implemented Teletrac Navman to track and monitor their fleet and equipment under the most demanding conditions that remote, construction or mine sites often present. At the core of the system is Teletrac Navman's Qtanium 350 with satellite communications.
They have also set up work versus idle to show the amount of time a vehicle or asset is running-idle and running-working which enables Gore Earthmoving to better manage and monitor their productivity.
Teletrac Navman's solution specialist Jim French says in order to measure idle time accurately, Gore Earthmoving has deployed additional connections to the system that monitor the park brake, the hydraulic lockout and the transmission. "These monitors are fully integrated back into the system and show when the engine is running but the machine is not working," says French.
With full integration into the Teletrac Navman software set, Qtanium 350 is ideal for organisations operating in the construction and mining sectors and those seeking a tracking system to reliably monitor their offroad assets, from the largest earthmover to the smallest bobcat.
The Qtanium 350 lets organisations know how their most valuable assets are being used through detailed asset reporting and dynamic dashboard.
"Understanding how your equipment is being used so you can be sure it's working optimally at all times is crucial in the construction and mining industries," says French. "We've done a lot of ground work and have developed new reports specifically targeted at off road assets that help businesses obtain that invaluable knowledge."
"The Qtanium 350 has been specifically designed for the construction and mining industries. Its IP67 rating means it can be submerged in water and it's also shock tested and can endure harsh vibrations and extreme environments. The unit is tamperproof and affixed with industrial strength magnets. There is no other solution like it in the market," says French.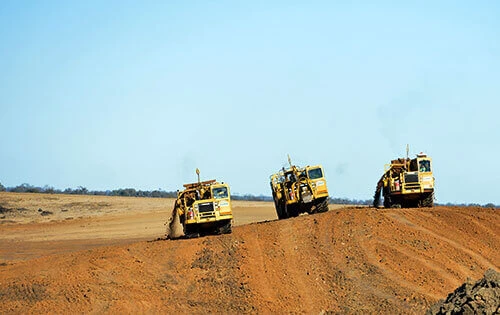 We can track the work versus idle time much more efficiently which has enabled us to better manage work flows and down times without having to rely on reports from machine operators.