Key Takeaways
TN360 Mass Manager is a module that provides the ability to interactively create your own vehicle configurations in TN360, which are then sent direct to the in-vehicle device for the driver to accurately capture vehicle mass at each axle. Each configuration you create, allows you to record mass against GML, CML, and HML, along with a custom option in case the vehicle itself is permitted to carry different values.
What is Mass Manager
Mass Manager is part of the TN360 platform and includes a web-based module for back-office staff to create configurations and associate to vehicles or fleets, and a driver facing application that allows the recording of mass values per axle group or gross value mass electronically. When the vehicle has integrated on-board mass scales, mass values are automatically attained from the scales at the touch of a button.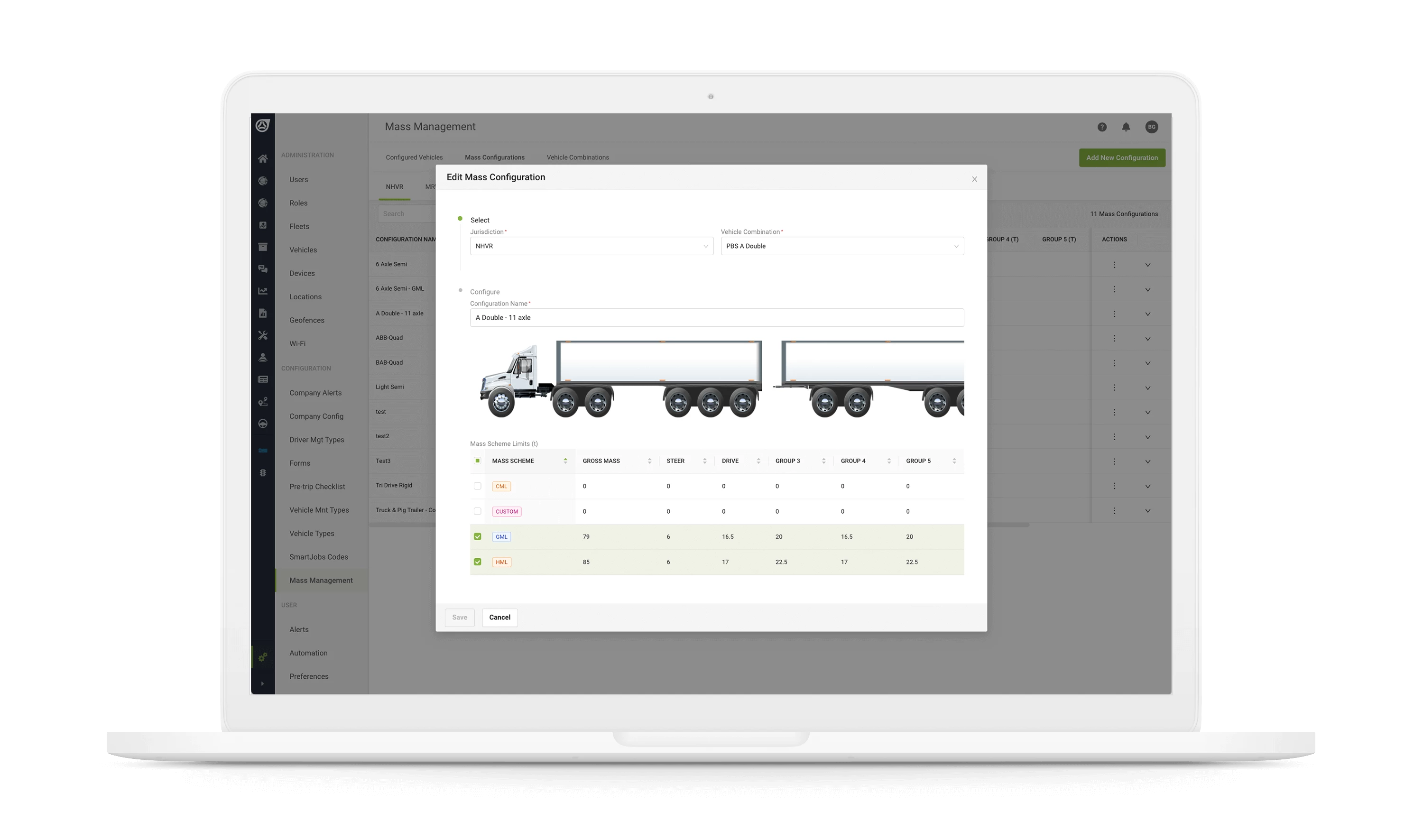 TN360's Mass Manager provides your operation with a solution to electronically record vehicle configurations and mass values at all times, ensuring compliance to regulations and operator safety.
What does the driver see?
Mass Manager is available as an application on the in-vehicle device (MT201). Through a visual interface, the driver is easily able to identify their vehicle's steer, drive and individual axle groups and enter a mass figure that is either attained through information provided at weighing bridge, job dockets, or integrated on-board scales.
Once submitted, the information is sent direct to the back-office. The moment the driver sends a value higher than the axle group allows, compared to the vehicle configuration created in TN360's Mass Management module, they are alerted allowing them to adjust their load. If the driver makes a declaration in excess of the configuration an alert is created to subscribed users to take action and ensure the driver is compliant to compliance and permit requirements.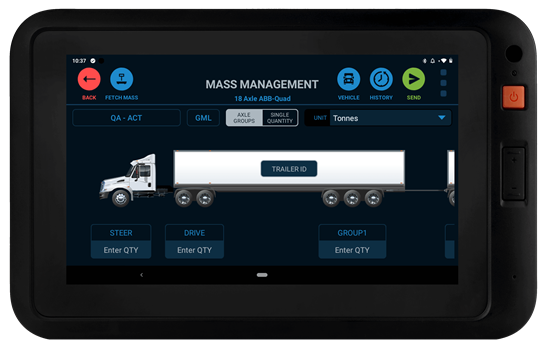 What are the key features
Key features include:
Ability to interactively create your own vehicle configurations in TN360 that are based on vehicles within your business
Send these configurations direct to the in-vehicle device for the driver to accurately capture vehicle mass at each axle
Create real-time alerts that are delivered direct to your mobile, email or within TN360 to keep you aware of mass management violations
Driver can directly record mass by axle group, or the vehicle's GVM
Visual display of the vehicle when creating the configuration or recording the mass values to allow for accurate information at all times
See a full history of mass declarations through reporting, and on the driver device for compliance requirements
Integrates with approved on-board mass weighing systems for instant automated mass readings.*
* Contact Teletrac Navman for details on which on-board mass weighing systems are approved and available for integration.
How can mass manager help your business
Mass Manager in TN360 provides the business with a digital means to record and monitor mass within the operation.
Helps to ensure compliance to mass regulations, from Chain of Responsibility requirements to NHVAS (National Heavy Vehicle Accreditation Scheme) regulations
Productivity! The ability to ensure the vehicle is always at maximum capacity, especially when paired with on-board mass scales for an instant view into each axles current load versus capacity
By managing mass digitally and being able to prove compliance in real-time, you could apply to programs like the TMA, RIM, IAP and OBM to carry more with less
With the increased productivity and efficiency, you can recoup the expensive costs of your assets quicker
Billing customers for product carried to ensure that you are accurately invoicing
Mass can be measured in different units - you can record the number of pallets carried or head of livestock if required.